Source: October 1957 Volume 9 Number 4, Pages 89–91
The American Non-Gran Bronze Company
The year 1907 witnessed the birth of a new baby in Berwyn. On the Lancaster Pike was born a new industry, named "The American Bronze Company," brain child of two men, Jack Watson and Alfred Smith.
This young industry started out in a small way, as a struggling young foundry with two coke-fired furnaces in a small T-shaped building, with all the work being done by hand, Alfred Smith having the metal knowledge and Jack Watson doing the work and giving the financial backing. Metal was poured and, during the processing in the furnace, the finished product was a bearing bronze to Government specifications; this was named "Non-Gran" because of its nongranular qualities.
As demand for the product increased, four furnaces and six molders were added. In 1909 the building was enlarged, and two lathes were added to the equipment in order to do some finishing; heretofore, all products turned out had been rough cast. In 1912 the saw-tooth roofed building (the latest thing in lighting and ventilating at that time) was constructed. The foundry was moved into one section of this building and more machines were added.
The year 1914 was to bring even more drastic changes. A new company was formed, the personnel increased, and the furnaces changed over from coke to oil-fired. Now the equipment consisted of six furnaces, eight molding machines, and four benches where the molds were made. The work had increased to the extent that, in 1914, one-half of the original building was made over to serve as an office, the other half being turned into a shipping department. An intensified sales campaign proved the need for a larger office force.
In World War I, 1917-1918 Government work increased by leaps and bounds, and the Cored and Solid Bar of Non- Gran Bronze came into its own. Every truck which went to France with the Armed Forces was equipped with a 6-5-4- Kit; this kit carried equipment which made possible emergency repairs for every part of a truck needing bronze bushings.
In November, 1925, there was another reorganization of the business, and the company now became the "American Non- Gran Bronze Corporation." Up to this time nothing but Non- Gran Bronze had been turned out -- and only automobile bearings -- but from now on the production of other combinations of metals was started. In this year bearings were made for the first Pratt and Whitney aircraft engine turned out in Hartford Connecticut.
In May, 1927, Charles A. Lindbergh, The Lone Eagle, made history with the "Spirit of St. Louis" by making the first non-stop flight from New York to France in 33 1/2 hours. I wonder how many of us in this locality know that the bearings in his plane were made here in Berwyn for the Wright Aeronautical Corporation of Paterson, New Jersey.
In 1935, Pratt and Whitney Aircraft wanted a new bushing for propeller blades, to replace the lead-lined steel ones which had to be replaced every few hundred miles, so American Non-Gran produced a beryllium bushing and later an aluminum bronze part known as a "blade bushing", whose wearing qualities made such frequent replacements unnecessary.
In 1940, the old Spring House Tavern, which had become known as the Farmhouse, was purchased to be used as a storeroom. It was later converted into part of the foundry for centrifugal castings.
During World War 2 work increased to such an extent that the plant had three shifts, working 24 hours a day, 7 days a week. A total of 750 men and women were employed, spread over two buildings in Berwyn, two in Wayne and one in Bryn Mawr. Women were employed to work on machines, and came to work in all types of attire; however, they turned out more work than the men. Hair-nets, a required safety feature, were frowned upon by some of the ladies as being very unglamorous; however, their use was enforced by those in charge. While the female employees were in the shop, many times the lunch period was a gala occasion -- complete with lace tablecloth, candles, etc.
During Edward Martin's term as Governor of Pennsylvania, he played host to the Governors of the other 47 states. As a souvenir, each Governor received a plaque with a head of Abraham Lincoln in bronze on it. This mold was made and the heads were cast at the Bronze. Many of you have probably seen them, as quite a few of them are to be found in homes around our community.
In 1946, the Company again changed hands and became known as the American Non-Gran Bronze Company. Since 1946 the Company has diversified its products in keeping with the demands of the aircraft industry. It now machines beryllium, aluminum, and extended bronzes, plus continuous cast bronze of American Smelting and Refining Company. Ni-Resist High chrome metal and stainless steel are now machined to close tolerances. All this necessitated a change in machinery and machining methods. To accomplish this, new machines have been purchased over the past seven years and the old equipment disposed of, so that hardly any of the old machines of 1945, which served their purpose during World War 2, are in existence at the present time.
All this has meant renovating the plant, rebuilding and adding new sections, stream-lining the flow of work and using the best methods for material handling and the latest equipment for gauging and inspection.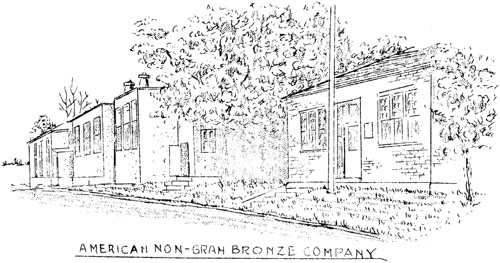 At present there are approximately 100 employees, enjoying the best of plant facilities, good wages, and liberal benefits. The American Non-Gran Bronze Company feels justly proud in being known as a Quality House with a quality product. This community should also be proud of the facts that bearings of American Non-Gran Bronze, made in Berwyn, were used in the first airplane to cross the Atlantic Ocean, in Charles Lindbergh's "Spirit of St. Louis", and in Admiral Byrd's Antarctic Airplane.