Source: October 1982 Volume 20 Number 4, Pages 111–114
William Penn Trees
adapted
from the book PENN'S WOODS: 1682-1982
by Halfred W. Wertz and M. Joy Callender
A Penn Tree is one found in Pennsylvania, New Jersey, Delaware, and the Eastern Shore of Maryland that has been living ever since William Penn first visited Pennsylvania three hundred years ago. Today there are but few of these primeval remnants.
The forests have changed materially since the day William Penn first alighted from the ship "Welcome" in October 1682 to bring his vision here. Then the bottomland forests of the Woodland Indians included sourgum, black walnut, sweetgum, and cypress. Now it is a rare floodplain that has sizeable examples of these species.
In 1932, during the 250th anniversary celebration of Pennsylvania's founding, Dr. Edward Wildman of the Philadelphia School System undertook to identify and register existing Penn trees. His records of tree locations, height, girth, and historical anecdotes were published in Penn' s Woods: 1682-1932, now out of print.
To bring this work up to date, the Penn Tree Committee, under the auspices of Green Valleys Association, began a five-year "treasure hunt" in 1977. An interdisciplinary team of foresters, scientists, and naturalists contributed over 4,000 volunteer hours to search for the trees mentioned in Dr. Wildman's book, and for others that he had missed.
To determine if a tree is 300 or more years old, several rules of thumb and formulas for estimating a tree's age were evaluated. The criterion finally adopted was based on a measurement of the tree's circumference at breast height (four and a half feet above ground level). With the help of Dr. John Swartley, a horticulturist who has devoted much of his life to the study of big trees, the Committee decided that most of our native trees with a circumference-at-breast-height (CBH) of 17 feet or more are probably more than 300 years old. Trees with a CBH of between 15 feet and 17 feet are probably between 250 and 300 years old, and thus would have germinated while Penn was living or during the transitional period when his wife managed the affairs of the colony before her sons became the joint proprietors.
In making their estimates, the Committee also considered the growing site - moisture, fertility, soil texture, availability of sunlight, competition from other trees, and similar factors - and the fact that different species of trees grow at different rates.
Using these criteria, they identified 130 trees that are 300 or more years old - 84- of them new discoveries not included in Dr. Wildman's survey. In addition, more than 170 trees aged 250 to 300 years were also identified.
The "awe-inspiring" Wye Oak, a white oak in the community of Wye Mills in Talbot County on Maryland's Eastern Shore, is considered the oldest living Penn hardwood tree. Its impressive measurements include a height of 102 feet, a CBH of 32 feet 2 inches, and a crown spread of 160 feet.
The oldest known conifer is a hemlock in the Alan Seeger Natural Area, Huntington County, Pennsylvania. The Pennsylvania Bureau of Forestry has estimated it to be about 500 years old. Its majestic height of 120 feet, combined, with a CBH of 14 feet 4- inches and a crown spread of 47 feet, make this tree well worth a visit.
There are four Penn Trees in Tredyffrin and Easttown townships - one in Tredyffrin and three in Easttown.
The oldest, estimated to be 300 or more years of age, is a white oak on Waterloo Avenue in Berwyn. Its CBH is 16 feet 8 inches. This old ungainly tree has been given the local name of "Traveler's Rest". Folklore so named it because of its geographic location halfway between Valley Forge and Media, a natural stopping place for early travelers.
The second tree in Easttown is a white ash in the 400 block of Beaumont Road in Devon. Its estimated ago is 250 to 300 years; its CBH is 17 feet, (Fifty years ago Dr. Wuldman found the CBH of this tree to be 14 feet 2 inches.)
The other tree in Easttown is the Tarleton white oak, in the 500 block of Sugartown Road, south of Berwyn. It is also estimated to be between 250 and 300 years; its CBH is 16 feet 6 inches. The tree stands at the entrance of Tarleton School, and may hardly have been noticed by the small band of Revolutionary War patriots when they defended their mansion outpost on "Signal Hill".
The original signal oak on the hill was one of at least eight trees that formed a communications network to keep General Washington informed of British troop movements in and around Philadelphia, Unfortunately, it disappeared within the last 50 years. The present oak has grown to a size that rivals that of the original. It should be protected as a reminder of the important part that living trees played in our nation's history.
The lone Penn Tree in Tredyffrin township is the Valley Forge Lafayette sycamore, located about 1200 feet from Lafayette's headquarters on the south side of Valley Creek. Despite its CBH of 21 feet 1 inch, its age is estimated to be 250 to 300 years. With roots alongside a creek, this tree is unique, not only for its size but also for its form. It has no main trunk. About six feet above the ground, the tree branches into a rosette of nine stems, each 12 to 30 inches in diameter.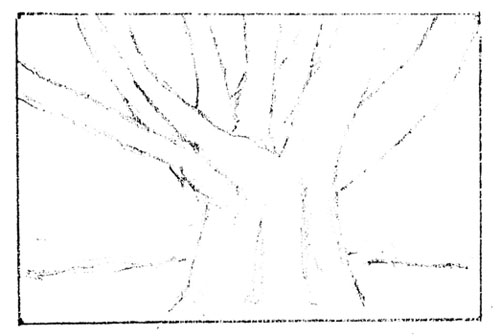 Undoubtedly, this tree witnessed some important events during Washington's six-months encampment at Valley Forge in the winter of 1777-1778. General Lafayette went to Valley Forge with Washington in December of 1777, and was there, off and on between exploratory expeditions, during that winter. He returned in early April and stayed until the Army left in June 1778. Parts of this tree may have served as fuel wood during the encampment. Or its smaller branches may have become fishing poles for Lafayette and his Life Guard soldiers. Such uses may be the only plausible explanations for the unusual rosette formation of the tree's branches.
Another local tree that was listed in Dr. Wildman's book (and which hasa 1932 Penn Tree plaque) was considered too small by the Committee tobe a Tricentennial tree. It is a white ash, located at Church and Beaumont roads in Devon. Its present CBH is 14 feet 8 inches. This tree is listed in the new book in the chapter that contains other Wildman trees that were thought to be too small. It measured 14 feet 2 inches in 1932. While ashes are usually fast growing, this one is obviously an exception.
Perhaps this is why Dr. Wildman noted it in his book.
Penn Trees have received care varying from total woeful neglect to painstaking solicitude. As a result some trees are declining rapidly, while others are healthy and thriving in spite of advanced years. The Committee found a fifty percent mortality rate during the fifty years intervening since Dr. Wildman recorded the trees in his text. Even as material for the new book was being collected, the rate of demise was accelerating.
Some of these Penn Trees are now but shadows of their former majesty and grandeur. Since Penn's Woods; 1682-1982 was published earlier this year, trees that remain may be expected to endure for years to come.
It is the Committee's hope that interest generated by the book Penn's Woods: 1682-1932 will encourage people to take measures to preserve these trees, especially the owners fortunate enough to have remnants of Penn's original woods on their properties. They hold these remaining trees in trust for all of us. These ancient trees, rooted in the land of William Penn's fondest hopes and dreams, are irreplaceable. They form the last living connection between his time and ours.
In Penn's Woods: 1682-1982 is the location, circumference, and estimated age, as well as local lore and historical anecdotes, for each of more than 300 trees in Pennsylvania, New Jersey, Delaware, and Maryland, including 130 trees believed to be 300 or more years old. The majority of trees in the Commonwealth may be found in the southeastern corner of our state. The book also contains a brief biography of William Penn, and thumbnail historical sketches of the states that comprise the area of "Penn's Woods".
The book is available from Green Valleys Association in Birchrunville. A part of the proceeds from its sale will be used to give those historic trees the proper care and attention they require.