Source: July 2003 Volume 40 Number 3, Pages 107–109
HISTORY OF ST. JOHN'S PRESBYTERIAN CHURCH, to 1903
DEVON, PENNSYLVANIA
On April 13 and 14 in 1682 William Wood, of Derby, England, and William Sharlow, of Spithfield, Middlesex, England, purchased in England two thousand acres in Chester County from William Penn. The lands were surveyed in 1684. In 1704 they were divided into two tracts, with one thousand acres (including the area of present-day Berwyn) going to the descendants of William Wood, and one thousand acres (including today's Devon) going to William Sharlow. In 1746 the latter tract was sold to Richard Harrison and Samuel Harrison.
For almost two hundred years the area stayed predominantly farmland, affected only by changes in methods of transportation. Nearby were churches, mills, taverns at the cross roads, and, by the nineteenth century, a few villages. The Philadelphia- Lancaster Turnpike, completed in 1794, was the major road used by farmers to send their produce to market in Philadelphia.
In 1832 the Philadelphia and Columbia Railroad was formally opened, with its eighty-one miles of track. With that the population began to increase. The Pennsylvania Railroad purchased the rails in 1857, and after the Civil War it really began to develop the area, building new stations and new first-class large hotels. People came out from Philadelphia to spend their summer vacations in the country. By 1874 there were fifty-four boarding houses between Philadelphia and Downingtown that could accommodate thirteen hundred people. The area continued to be popular for summer homes and vacations until the New Jersey shore took over.
The Devon station, named for Devonshire England, was first built in 1866 and rebuilt in 1881. The fashionable Devon Inn, a frame structure with a tree-lined boulevard leading to the new station was also completed in 1881. When it burned down two years later, it was replaced with a stone and brick building.
As the area became more fashionable, real estate developers arrived, and by 1883 the Messrs. Coffin and Altemus, of Philadelphia, owned 617 acres in the Devon area. By the 1890s lots had been sold, large estates had been built, and the grand Devon Inn was flourishing, with rooms for 250 guests, illuminated with electric lights!
In April of 1892 a group of ten men from Devon got together to start a Sunday School in the home of Mr. J. Lewis Twaddell, on Valley Forge Road. The group was soon known as the Devon Sabbath School, and its leaders were Mr. J. Herbert Jefferis and Mr. and Mrs. Frederick E. Hastings, along with Mr. Twaddell. Hoping to become a Presbyterian Church, they applied to the State of Pennsylvania for a charter.
On June 14, 1893 they received the "Charter of the Devon Chapel," a corporation under the laws of Pennsylvania. It was signed by Mr. J. H. Jefferis, Mr. F. E. Hastings, Mr. J. L. Twaddell, Mr. Louis Warner, and Mr. S. D. Walton. A plot of ground was donated by Coffin and Altemus, and on it a building was erected in the fall of 1893. Its cost was $3,500.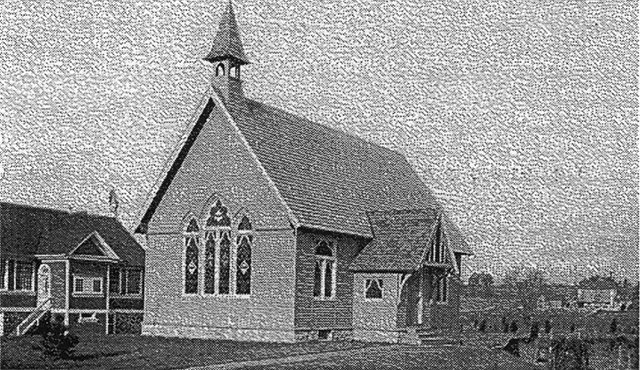 The Chapel grew in membership, and during the summer of 1895 services were conducted by Mr. Edward Keigwin, a student at Princeton Seminary. That same year a church bell was purchased, inscribed "Make a joyful noise unto the Lord, Devon Chapel 1895."
By 1897 the work of the Church had prospered, and it was felt that a full-time minister could be in charge. The Reverend Joel Swartz, D.D. was called and became the first pastor.
Hoping to become affiliated with the Presbyterian Church, thirty-one charter members organized the Devon Church on June 10, 1900. The first elders were Mr. J. Lewis Twaddell, Mr. J. Herbert Jefferis, Mr. H. 0. Hildebrand, and Mr. Frederick H. Treat. On December 11, 1900 Mrs. George H. Earle gave the Devon Church a baptism font in memory of her deceased child. It cost $300. The font, now beautifully restored, stands in the back of the church.
Early in 1903 a petition was presented to the Presbytery of Chester. It was approved, and the Devon Church became St. John's Presbyterian Church of Devon (the congregation had voted unanimously to change the name). Mr. Jefferis, Clerk of Session, wrote,
"The Presbytery appointed a Commission of five ministers and the elders to come to Devon Thursday, April 3rd, to install our pastor and to congratulate our people, and to offer their good wishes for our future. For thus eleven years are ended as a union in the work of the Church. We shall start off as a full-fledged Presbyterian Church under the brightest of auspices, and we look for God's richest benedictions upon this part of his vineyards."
The Rev. Dr. Victor M. Wilson is presently pastor of the church.
[The address of the church is 217 Berkeley Road, Devon. From Route 30 in Devon take Waterloo Road south to Berkeley. Turn right on Berkeley. The church is on the right in the first block.]