Source: October 2003 Volume 40 Number 4, Pages 139–142
MUSIC AND DANCE OF THE 18TH CENTURY
John Krumm got involved in history through the back door; by asking questions about what things meant and why things were called certain names. Like "allemande," for example, which is a French word for German and comes from the Baroque dancing suite.
He also became interested in history through ballad singing, which was popular in America in the 18th century. Broadside ballads were the way news was broadcast in the 18th century. Mr. Krumm sang one of the earliest of these ballads called "Captain Kidd," which originated at the time of his 1701 trial and hanging for "murther and piracy." The only way people knew about this hanging was when someone wrote a ballad about his life. Through nine gruff and vigorous verses William Kidd tells how his parents taught him well, but he rebelled, murdered William Moore, burned many ships, took 90 bars of gold, was cast into Newgate prison, and tells his listeners to take warning from him and shun bad company for he must die.
Letters and diaries are good ways to discover how people got together and danced. Nicholas Cresswell wrote from St. Mary's River, Maryland on Tuesday, July 26th, 1774:
At Anchor with a contrary wind. About noon a Pilot Boat came along side to invite the Captn. to a Barbecue. I went with him and have been highly diverted. These Barbecues are Hogs, roasted whole. This was under a large Tree. A great number of young people met together with a Fiddle and Banjo played by two Negroes, with Plenty of Toddy, which both Men and Women seem to be very fond of. I believe they have danced and drunk till there are few sober people amongst them.
Molly Tilghman wrote from Chestertown, Maryland on January 29, 1789:
Late as it is, I must tell you that last night we were at a Ball at Petty Jacksons, where we staid till one o'Clock. It was really a very genteel Entertainment. We had twelve couples. I went determin'd not to dance, but who can resist the temptation of a superexcellent partner. It was not in nature to refuse Jack Chew, with whom I danced three dances. We had some of the most capital figures I have seen for a long time...
The country dancing movement started in England in 1650 and came to this country at about the same time. Dancing was created by dancing masters. One dance called "Kings Head" in England was called the "Soldiers Joy" in this country. Boston, Philadelphia, New York, and Baltimore were the big centers of dancing in the United States. In Fort Washington, when George Washington was president, his country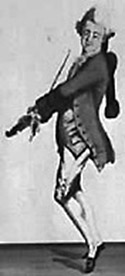 house at "The Highlands" on Sheath Road was frequently used for balls and other evening entertainments.
Dancing is something to do after you've been drinking; drinking was very popular in the 18th century. Three people from the audience demonstrated the specific steps in the "Reel for Three" dance. These would have been learned from a dancing master. Then there were also country dances like our modern square dances. (Drinking at dances has always been very controversial in the US. Some times and places it was encouraged and other times it was banned.)
The rest of the program was devoted to the introduction and singing of songs with a local or unusual background.
"Lowly Bethlehem" tells the story of how Bethlehem, Pennsylvania got its name. It was improvised on Christmas Eve, December 24, 1741 in the first house the Moravians had built in this area; one in which people lived in one part and their animals in another. The question had arisen over whether to call the town Jerusalem or Bethlehem. The leader of the community, Count Zinzendorf, arose, led his followers to where the cattle were kept, and improvised the melody and the words which begin, "Not Jerusalem–lowly Bethlehem, 'twas that gave us Christ to save us." The group was so moved they decided on the name Bethlehem that night.
"Springfield Mountain" is the first original American ballad. It started out as a serious ballad about a man who was bitten by a snake and died three hours later. Later in vaudeville it became a parody and a melodramatic comic ballad with the man's girlfriend rushing up to save him, sucking out the "pisen," but dying herself because she had a rotten tooth through which the poison killed her too.
"Yankee Doodle" could have originated from the Dutch, because an old Holland tune was sung to nonsense words that sounded like "Yankee Doodle." Then it moved to England and became a song criticizing Cromwell where, in a popular version, it is thought the word "macaroni" entered the song. During the American Revolution this lively song was sung derisively by the English at the Yankees. They, in turn, sang the song when they marched the defeated British soldiers to prison. A version called "Cornwallis's Country Dance" describes the war moving backward and forward and when Cornwallis surrendered at Yorktown it was to the music of this tune. Another version, full of satire against the British, and written by Francis Hopkinson, a signer of the Declaration of Independence and framer of the U.S. Constitution, was sung to this tune. It was called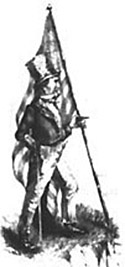 "The Battle of the Kegs" and describes in 22 verses how rebel soldiers came to Philadelphia floating down the river in kegs.
"The Derby Ram" was George Washington's favorite drinking song. Such songs are usually bragging songs with the singer trying to out-lie someone else. The singer describes how, upon going to Derby on market day, he "spied the biggest ram, sir, that ever was fed on hay." The horns reached up to the moon, the fleece reached up to the sky, the eyes were football size, his ears were used to make leather aprons, the tail was used to ring the bell on top of the Derby jail, and the butcher that killed him was up to his thighs in blood.
"Jefferson and Liberty" is both a homage to Jefferson and an Irish jig, "The Gobby-o," to which a contra dance was written in the first part of the 19th century. A contra dance is a New England version of a traditional dance like the square dance, although in a line formation like the Virginia Reel.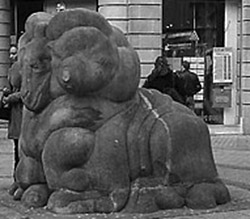 "Lincoln and Liberty" is a campaign song of 1860. The tune also served as a presidential campaign song for always defeated Henry Clay and for Horace Greeley when he was running against Ulysses S. Grant.
"O Dear! What Can the Matter Be?" is a traditional English song first published in America in 1793 by Benjamin Carr, a successful musician and music publisher and dealer with outlets in Philadelphia, Baltimore, and Boston. This tune was used in 1884 by the women's suffrage movement for the seven verse song "Women are Wanting the Vote." Below are the words by L. May Wheeler.
Chorus:
O Dear! What can the matter be? O Dear! What can the matter be? O Dear! What can the matter be? Women are wanting the vote.
Verses:
1. Women have husbands; they are protected; Women have sons by whom they're directed; Women have fathers; they're not so neglected. Why are they wanting the vote?
2. Women have homes, there they should labor, Women have children, whom they should favor, Women have time to learn of each neighbor, Why are they wanting to vote?
3. Women can dress, they love society, Women have cash, with its variety, Women can pray, with sweetest piety, Why are they wanting to vote?
4. Women are preaching to sinners today, Women are healing the sick by the way, Women are dealing out law as they may, Why are they wanting to vote?
5. Women are trav'ling about, here and there, Women are working like men everywhere, Women are crowding – then claiming 'tis fair, Why are they wanting to vote?
6. Women have reared all the sons of the brave, Women have shared in the burdens they gave, Women have labored your country to save, That's why we're wanting to vote!
7. Oh, dear, what can the matter be? Dear, dear, what can the matter be? Oh, dear, what can the matter be? When men want every vote?
John ended with an example of how errors can be passed down in history. The haunting fiddlers tune, "Ashokan Farewell," was written in 1982 by Jay Ungar for the end of the season of his music and dance camp called Ashokan near the Ashokan Reservoir in New York near Woodstock. When Ken Burns was scouting for music for his 1990 PBS series on the Civil War he discovered the tune and made it a recurring theme in his series when letters from soldiers were being read. Many people who inquired about this "Civil War melody" were stunned to find it was written in the 1980s.
---
A summary of a video of a presentation at the Club's picnic on July 20, 2003.
John Krumm is a teacher of music and dance and has taught these subjects at The Miquon School since 1981. He has also written about music and dance and participated in many local and international music and dance events.