Source: Winter 2004 Volume 41 Number 1, Pages 33–36
Strafford Village
Your "Thrill of Thrills" Awaits You!... Never in your fondest dreams have you envisioned a residence which boasts of so many surprises... so many novel, exquisite decorative effects... so many new features for comfort and convenience... In a setting of wooded beauty, high above the treetops of the surrounding countryside—from a 1940 newspaper advertisement promoting Strafford Village.
The year is 1939. The Chester County portion of U.S. Route 30, the Lancaster Pike, is a country road paralleling the great Main Line of the Pennsylvania Railroad.
There are cute little railway stations along the way: Wayne, Strafford, Devon, Berwyn, and Paoli. There is no Schuylkill Expressway, or even a Pennsylvania Turnpike. The Great Valley is farmland.
U.S. Route 202 is a two-lane country road running down the middle of the valley. King of Prussia is a sleepy little cross roads with nary a shopping center in sight; in fact shopping malls have yet to be "invented." There is no suburban sprawl. There are no "developments," just a few homes here and there.
Into this scenario steps my grandfather Stephan Schifter, "Pop."
He was originally a cabinet maker who emigrated from Austria-Hungry in 1904. He had progressed to building apartment buildings and duplexes though much closer to Philadelphia. Yet this visionary saw the coming of the creation of the suburbs and he purchased a plot of land from the LeBoutiliers, bordered roughly by North Wayne Avenue, Crestline Road, and Beech Tree Lane, and now includes Briar Road and Chestnut Lane. Or may-be he bought it because the price was right—low!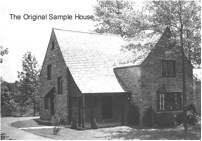 This plot was to become Strafford Village, simply The Village to the hundreds of past and present residents.
Believed by many to be the first development in the entire Delaware Valley to offer different models; there were fifteen in all. The prices ranged from $7,300 to $15,000, or in today's dollars $100,000 to $225,000.
Now remember that in 1939 all those "new features for comfort and convenience" did not include standard central air conditioning, designer country kitchens, family rooms, master bedroom suites with a Jacuzzi tub and separate shower. But none the less there was central forced air heating, air conditioning as an extra, "modern" kitchens with "built in electric dish washing machine," first floor powder rooms, multiple second floor baths, full basements, beautiful pecan wood flooring, ceramic tile baths, and even some plans with two, yes two, car garages! All that and within walking distance of the Strafford Station of the Paoli Local, or as the unimaginative SEPTA now calls it, the R5.
From 1939 until the entrance of the United States into World War II, 34 homes were sold and built. There was one additional house in the roofless framed stage when construction was halted. It would remain that way throughout the war years, eventually collapsing before construction began again after the war ended. Not unexpectedly, the buyer insisted that the home be rebuilt and sold based on the pre-war contract, a fact that my grandfather, Pop, never stopped grumbling about.
After the war's end construction materials were still not very available and quite expensive, especially wood. To get around this problem Pop purchased a defunct northern New Jersey World War II explosives storage facility, which had been constructed with huge timbers. He then built a lumber mill on his farm home in Eagleville, PA and proceeded to cut joist, studs, window framing, and all the other lumber products needed for the building of the post-war homes of Strafford Village. The Pennsylvania fieldstone used for many of the homes was, as well, quarried at Pop's Eagleville property.
Unlike many builders of the period, Pop recognized the value of the heavily treed building lots. Rather than simply taking down trees haphazardly to maximize the number of building lots, he saved as many trees as possible. Many of those trees stand today and provide shade for today's residents of The Village. My grandfather's passion for saving trees led
him to realign the plot plans and even to relocate houses on some plots to save the trees.
In 1946, my father, Erich S. Schifter, joined the family business and in 1948 built a home at 32 Briar Road that was to be the Schifter family homestead for nearly forty years. Had the original plan been followed 32 Briar Road would not have been what it was or is today. The original plot plan showed a road from the bottom of Briar Road over to Beech Tree Lane with four homes on either side. The creek that runs through that section and other water problems forced the abandonment of the plan. Hence, 32 Briar with its large front, side and back yard stands on what was originally to be a road.
The last home of the total of 78 was sold and completed in 1949, all but one of which were built from one of the original fifteen model plans. There was one custom designed ranch home, I guess Pop really wanted to make that sale.
Today many of these homes have added twenty-first century features for comfort and convenience and they are all still prized for their location. Homes in The Village today command prices of $400,000 to over $700,000.
Why? Because Strafford Village is much more than the explosives storage facility timbers. It is the people who have, do now, and will into the future, reside in those homes. And, in fact, The Village today is more than those 78 homes my grandfather and father built. Over the years, as more homes were built on neighboring plots, those home owners asked, many say pleaded, to join the Strafford Village Civic Association (SVCA). Today The Village is made up of over one hundred twenty-five families.
As the unofficial historian of the SVCA, Bennett Hill, wrote in his October 2002 "History of Strafford Village:"
It is the people who live here. That is why they want to stay, and why they want to come. Our Civic Association, founded in 1941, actively cares for our needs and looks after our interests... We are truly fortunate to be part of such an inter-active community.
And, as Laurence Roy Strains wrote about The Village in the April 1999 Philadelphia Magazine "The Best Places to Live" issue:
The first time you drive through here, you start looking around for Jimmy Stewart. Dads take the train into town; moms push strollers around the Briar Road loop ... You have a sense of community. We have our ritual gatherings: the Easter egg hunt, the Spring Thing where we all stand around in a neighbor's back-yard in our sundresses and our blue blazers and drink cocktails, the Fourth of July kiddie parade and costume contest... followed by games like egg-toss, sack-race, tug-of-war. Who plays those games any more? We do.
In sum, it is the memories already created and yet to be that bring all these people together as Strafford Villagers.
My memories are many and varied; sledding down the Briar Road hill with my Father leading the crack-the-whip chain of sleds in his "official" Davy Crockett coonskin cap. Well, yes, it was my hat
but it had ear flaps and Father appropriated it for warmth. Delivering the Evening and Sunday Bulletin in all kinds of weather, pedaling my trusty bike, or having to use that same sled on snowy winter evenings, is a mostly good memory. Let's say a maturing one for all those cold, rainy evenings and very early Sunday mornings. The Thanksgiving evening open houses at 32 Briar, started by sister Susan, for all the Conestoga High School crowd were some fun-filled parties.
Yet, for me the Fourth of July celebration has always been the defining activity for The Village. The parade, the costumes of the kids, the fire engine rides, and the games: pie-eating contests, the egg toss (raw naturally), pony rides, and the "odds" against the "evens" tug-of-war, with the "odds" on one side of the creek, the "evens" on the other side, and the losers in the creek, all brought together the entire community. This celebration, which the SVCA began in 1943, initially was held at Fox's Field. When that piece of property was sold for additional homes, the original thought was to join in the Strafford School annual Fourth of July party. It was my mother, Margaret Schifter, who spoke up at a 1952 SVCA board meeting and suggested moving the celebration to our property at 32 Briar Road, where it is still held. See how the fates dictated that that additional planned road not be built. Otherwise there would not have been room for the Fourth celebration at 32 Briar.
It is a sight to see the fifteen by thirty foot American flag hand-crafted by Louise Hutchinson hanging from the second story windows.
There are still all the traditional contests and games, the hot dogs, hamburgers and sodas, etc. There are also fond memories of my returning, spouse Catherine in tow, year after year; in fact, every year until my parents sold the homestead in 1986. There was the year my brothers Rick and Scott were accused of slipping a hard-boiled egg into the egg toss; it really was just a very sturdy egg— really. Then the year The Village fathers had a lawn mower race. These were not today's riding mowers—and they were with engines turned on. It still amazes me that there was not a single toe or limb lost. That was the same year those same fathers decided to put on their own fireworks show. The rocket that hit the chimney of 32 Briar was the most exciting part of the show, which for some reason has yet to be repeated.
I am sure every individual who ever has been a Strafford Villager has their own wonderful memories. I am equally sure that every person who will in the future live in The Village shall create their own memories. It is Strafford Village that brings all these people together, keeps them together, and, after over sixty years, makes The Village a truly wonderful place.
Thanks Pop, Father, Mother and all the people who built and built upon The Village.
---
Stephan C. Schifter is a retired management consultant and entrepreneur. He and his wife Catherine, a Professor at Temple University, reside in Center City Philadelphia with their two Siamese cats Chester and Sasha.