Source: Winter 2005 Volume 42 Number 1, Pages 21–25
The Story of Two Main Line Aviators:
Matthew Corbin and Charles Anderson
While researching the Upper Main Line segregation story, the author interviewed Matthew Corbin about his attendance at the Salem School during the "school fight," and was privileged to uncover this fascinating yet little-known local aviation story.
Two men grew up on opposite ends of Philadelphia's Main Line and were separated in age by 13 years. Each achieved aviation greatness in his own way. Their lives were closely connected only twice and, for at least one of those men, the connections will always be remembered.
| | |
| --- | --- |
| Top | Charles Anderson – The Beginning of the Legend |
Charles Alfred Anderson was born in 1907 in Bryn Mawr, Pennsylvania. From his earliest recollections he developed an overwhelming interest in airplanes and flight. At the age of 8 he briefly ran away from home, looking for barnstormers in the area. As a teenager, he was unable to get a ride on an airplane because of his color. As a young man, Charles applied to the aviation program at Philadelphia's Drexel Institute, but was denied admission because of his race. He tried to join the Army to become a pilot, but was again rejected because of his skin color. He finally decided that the only way he was going to be able to learn to fly was to buy his own airplane. At age 22, after much hard work and loans from friends and family members, he was able to raise $2,500 and purchase a used aircraft. Now all he had to do was learn to fly it.
Anderson found an aviation school that would teach him basic maintenance and ground schooling, but they would not provide flight training to a black man. He spent much time at airfields observing the flight patterns and characteristics of the airplanes. He read books on flying techniques, and listened and received tips from white pilots who were willing to be friendly to him. Anderson recalled that "after I got the airplane I had to learn how to fly it, but nobody would teach me. So I just fooled around with it enough that I got accustomed to it and eventually got to the point where I soloed myself."
By 1929 Anderson had developed the proficiency in the air to receive his pilot's certificate. His next priority was to earn an Air Transport License, the certification that would enable him to fly commercially. In 1932, after much travail, Anderson was issued Air Transport License #7638, the first ATL ever issued to a black aviator in the United States.
In the early 1930s aviation was of tremendous fascination. Charles Lindbergh had just flown across the Atlantic Ocean a few years earlier, coast to coast records were being set, and there was hardly a day that passed where some aviation event was not featured in newspapers or on the radio. But none of these records were being set by black aviators.
So a young black physician/pilot from Atlantic City, New Jersey named Dr. Albert Forsythe—who had earned his medical degree in Montreal when he could not get accepted into a U.S. medical school—took it upon himself to demonstrate that black pilots were as equally capable as whites at setting records. But Forsythe needed Anderson's help.
By 1933 no black pilot had ever flown over the United States from coast to coast. Dr. Forsythe wanted to set that record, and so he purchased a new airplane for that purpose. On July 17, 1933, Forsythe and Anderson made history by completing a flight from Atlantic City to Los Angeles, California, becoming the first black pilots to span the country from east to west. Then they returned to Atlantic City, becoming the first blacks to complete a round trip flight in the U.S. coast to coast. Several subsequent international flights underscored their "hero" status and the reality that aviation did not have to have a color barrier.
| | |
| --- | --- |
| Top | Just a Local Boy From Cedar Hollow |
In the summer of 1934, 14-year-old Matthew Corbin lived with his family in the small blue-collar community of Cedar Hollow in northeastern Chester County, Pennsylvania and had just completed the 8th grade at the small Salem School. His father worked as a laborer at the large Warner Company limestone quarry. From his earliest memories Corbin recalled the sound of aircraft engines over Cedar Hollow, and the sight of circling airplanes as aviation flourished at the nearby Main Line Airport in adjacent East Whiteland Township. Advertisements for aviation events at the airport were a common expectation, and were plastered on convenient telephone poles.
In his spare time Matthew would walk with his friends the short distance from Cedar Hollow south to the Main Line Airport to watch the planes landing and taking off, marvel at the autogiros, and view the frequent air races and the parachutists. In aviation he had found his first love.
He particularly remembers, in that summer of 1934, one of the most influential incidents of his life. He saw a poster announcing a "fly-in" at the Main Line Airport featuring the renowned black aviator Charles Anderson. With his older sister, Viola, Matthew excitedly walked to the airfield—some called it the Paoli Airport because the name "Paoli" was prominently painted on the roof of the large barn—to see this nationally famous aviator from Bryn Mawr.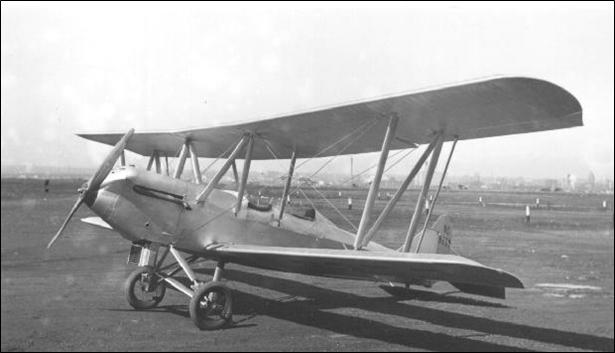 Anderson flew into the Main Line Airport that day in his Eaglerock "Longwing," a twin cockpit biplane built by the Alexander Aircraft Corporation of Colorado Springs, Colorado. Between 1926 and 1931, the Alexander Aircraft Company was the largest aircraft manufacturer in the world. When Matthew and Viola arrived at the airport they were thrilled to discover that Anderson would give airplane rides to some of the children. A ten minute airplane ride at that time would usually cost between 50 cents and $1.00. Viola offered what she had, and Matthew and Viola strapped themselves in together in the front cockpit, with Anderson controlling the plane from the rear cockpit.
Matthew still remembers the roar of the World War One vintage, 90 horsepower Curtiss OX-5 engine, and the feel of the slipstream, as the Eaglerock cruised at about 70 miles per hour over the Great Valley at perhaps 500 to 700 feet. When later asked if he had been able to see his home in Cedar Hollow from the air, he admitted that he was "pretty scared and did not look over the side very much." But this was his very first flight, and a love affair with aviation had begun that changed his life forever.
| | |
| --- | --- |
| Top | The Legend Increases for "Chief" Anderson |
By the late 1930s war in Europe appeared probable. If and when America became involved, large numbers of trained pilots would be required for military service. One immediate response to that need came in December 1938 in a proclamation by President Franklin Delano Roosevelt announcing the creation of the Civilian Pilot Training Program (CPTP). This Program, administered by the Civil Aeronautics Authority, was one of the largest government-sponsored vocational education programs of that time. It served war-preparedness goals by annually admitting thousands of 18- to 27-year-olds, primarily college students, pre-screening the candidates to successfully pass the rigid Air Corps flight physical and qualifying them to obtain a private pilot license at government expense. In the event of war these individuals would be inducted directly into the military service.
After an immense lobbying effort, the Roosevelt administration eventually agreed to allow black men to participate in the CPTP. A segregated all-black training site was established at Moton Field, Alabama under the direction of the Tuskegee Institute. Soon after its creation Charles Anderson was invited to join as the Chief Flight Instructor for the Tuskegee program. For the rest of his life Anderson would be known respectfully as "Chief."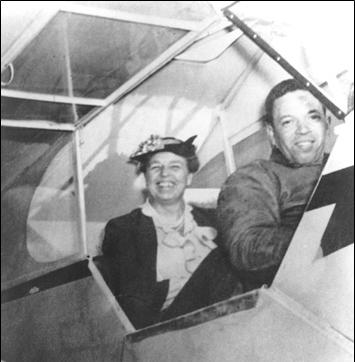 Charles Anderson flew as the Chief Flight Instructor of the CPTP at Tuskegee for about a year, and then a chance meeting with First Lady Mrs. Eleanor Roosevelt in March 1941 forever changed his life. Mrs. Roosevelt had come to visit Tuskegee, and while there was told about the black Civilian Pilot Training Program. She asked to be taken out to visit the flight line at Moton Field. When she arrived at the airfield Anderson was introduced to her as the chief instructor. The first thing she said was, "I always heard colored people couldn't fly airplanes, but I see you're flying all around here." Then she said, "I'm just going to have to take a flight with you." Her nervous Secret Service escorts protested vigorously stating, "No, Mrs. Roosevelt! You can't do that!" But she stated flatly that she wanted to do this, and climbed into "Chief's" Piper J-3 Cub. After a flight for the better part of an hour, they returned safely to earth. Mrs. Roosevelt was heard to say to "Chief," "Well, I see you can fly all right!"
Not long afterward, Tuskegee Institute was chosen to host an Army Air Corps program called the "Tuskegee Experiment." The "Experiment" was to prove whether it was feasible to teach blacks to fly military airplanes. "Chief" observed years later that "we were determined to prove we could do anything anybody else could do. We were very loyal to our country – we wanted to be fighter pilots just like anybody else."
Many aviation historians credit "Chief" Anderson's short flight with Mrs. Roosevelt as the inspiration for training the first African-American military pilots, later to be known throughout the world as the Tuskegee Airmen.
| | |
| --- | --- |
| Top | Cadet Corbin at Tuskegee, Alabama |
It was now late 1943, and the United States was in the midst of World War II. Matthew Corbin had never forgotten his first airplane ride at the Main Line Airport in 1934, and wanted to serve his country by joining the Army Air Corps. He had not had the opportunity to attend college, but Matthew preformed so well in his qualifying examinations that the military sent him to Tuskegee as a cadet pilot. For the first six weeks of training he and his fellow cadets pursued an aggressive ground school regimen of basic military instruction, navigation, aerodynamics, weather, and preflight training. Then, for those who passed this first of many hurdles, came the actual flight instruction.
Corbin's primary flight instructor was Charles Smallwood, one of several instructors responsible for initial flight training at the Tuskegee program. Instructor Smallwood, and all the flight instructors, reported to the Chief Flight Instructor, who was none other than Charles Anderson. Because of the extraordinarily high standards which Anderson demanded from his instructors and their trainees, at least 40 percent of the pilot candidates failed to satisfactorily complete their primary training. Those who failed were immediately sent to non-flight Army assignments throughout the world.
If a pilot candidate managed to survive his primary training with his basic instructor, "Chief" Anderson had one final requirement before each and every cadet could pass to the advanced flight phase. Anderson insisted on personally flying with every cadet on his final checkout training flight. The understanding on this final test was well known. Should a cadet fail for any reason to satisfy the "Chief" with the superior quality of his flying, "Chief" would "grab the stick," assume command of the aircraft in its descent back to the landing field, and the candidate's dreams of becoming an Air Corps pilot were over forever.
Cadet Corbin had done well in satisfactorily completing his primary instruction under Instructor Smallwood, and now, standing beside his PT-17 Stearman biplane, he awaited the word from "Chief" Anderson to commence his final checkout flight. Naturally, Corbin feared Anderson's reputation for demanding excellence but, seizing the initiative, he looked the Chief Instructor in the eye and said, " 'Chief' Anderson, you probably don't remember me, but 9 years ago you took my sister and me up for our first airplane ride at the Paoli Airport in Pennsylvania. I could never have imagined then that I would be taking you up for this flight today." "Chief" Anderson returned Corbin's gaze, smiled, and said, "Son, I don't specifically remember you, but I sure remember flying in and out of the Main Line Airport. Now, let's go flying and see what you can do."
And fly they did, with Corbin in the front cockpit of the Stearman controlling an intricate sequence of banks, loops, and snap rolls, and Anderson just sitting in the rear cockpit taking the ride. When the checkout flight was completed and they were once again on the ground, "Chief" Anderson said to Cadet Matthew Corbin, "Son, you did real good up there today. You're going to earn your wings."
By late 1944, after many weeks of advanced flight training in an A-6 "Texan," Cadet Corbin became Second Lieutenant Corbin, with the wings of an Army Air Corps pilot proudly pinned on his uniform jacket. After earning his pilot's wings he went on to combat training in the P-40 War Hawk and the P-47 Thunderbolt and prepared to join the war effort.
"Chief" Charles Anderson personally trained over 1,000 pilots at Moton Field in Tuskegee. The 332nd Fighter Group, formed entirely of Tuskegee pilots, was one of the most successful fighter groups during World War II, and has the distinction of being the only fighter group to never lose a bomber to enemy fighters while they were flying as escort. That kind of record required superb flying and strict discipline, both of which the "Chief" instilled in his students. By the end of World War II, 992 men had graduated from pilot training at Tuskegee, 450 of whom were sent overseas for combat assignments. During the "Tuskegee Experiment" some 150 pilots lost their lives while on combat flights or in training.
"Chief's" accomplishments did not stop when the war ended. He kept flying as an instructor, giving flight instruction to students of all races well into his eighties. He helped organize a Summer Flight Academy, which provides aviation opportunities to young blacks. He died at his home in Tuskegee, Alabama on April 13, 1996 at the age of 89.
Lieutenant Matthew Corbin was assigned to the 477th Bombardment Group which later became the 477th Composite Group. Equipped with B-25 Mitchell medium bombers and P-47 fighter bombers, the Group trained for its probable role in the Pacific Theater. The war, however, ended before the 477th could be deployed in a combat role overseas. While the 477th never saw combat, it contributed to its victory by opening the door to the desegregation of the U.S. military in 1947.
Corbin left the military service in 1947 and attempted to seek employment with any commercial airline that would hire him. He was not, however, given that opportunity as commercial airlines were not hiring black pilots at that time. He was told by one carrier that "I could apply for a job that would allow me to sweep out the airplanes, but not fly." Mr. Corbin relocated to Detroit, Michigan with his wife and family and secured a position with the Department of Transportation as an instructor and later in management. He later worked with two minority owned airlines. He became involved with organizations like the Detroit Chapter of the Tuskegee Airmen and the Black Pilots of America, encouraging young blacks to enter into the many fields of aviation. Through the efforts of these organizations, many of the students pursued their interest by attending Embry-Riddle Aeronautical University, the Air Force Academy, or other schools of aviation. Mr. Corbin proudly relates that "some of our past students are actually captains on commercial airlines, and others are flying in the Air Force, which is a major step forward on the road to equal opportunity for all." At age 84, Mr. Corbin continues to reside in Detroit.
In preparing this narrative, I had the continual involvement of Mr. Corbin, whose lucid memory of details, personal photographs, and encouragement were so much appreciated.
Timeless Voices of Aviation. "Voice of the Week – Charles Anderson." (February 20, 2004). http://www.timelessvoices.org/news/voiceoftheweek/040220_charles_anderson.asp
John Sherrer. "C. Alfred 'Chief' Anderson: The Most Famous Black Aviator in America." Dayton, Ohio: Pride Magazine (November, 1976). http://www.bjmjr.net/tuskegee/chief.htm
Roosevelt J. Lewis and Vascar Harris. "C. Alfred 'Chief' Anderson: 'The Father Of Black Aviation,' February 9, 1907-April 13, 1996."http://www.bjmjr.net/tuskegee/anderson.htm
Joseph Coslett. "Tuskegee Airmen Opened Doors for Black Aviators." Columbus Air Force Base, Mississippi: Air Force Print News (March 8, 2004). http://www.af.mil/news/story.asp?storyID=123007150
"Alexander Eaglerock": Alexander Aircraft Company http://en.wikipedia.org/wiki/Alexander_Aircraft_Company; Colorado Aviation Historical Society http://en.wikipedia.org/wiki/Colorado_Aviation_Historical_Society; Wings Over The Rockies Air and Space Museum http://www.wingsmuseum.org; Museum of Flight http://www.museumofflight.org/aircraft/alexander-eaglerock.
---
Since beginning a definitive study of the Main Line Airport in 2002, Roger Thorne continues to pursue his passion for aviation history.