Past Meeting
---
At our public meeting on Sunday, March 21, 2010 the featured presentation was:
Then and Now... The Foundry
by Barbara Cohen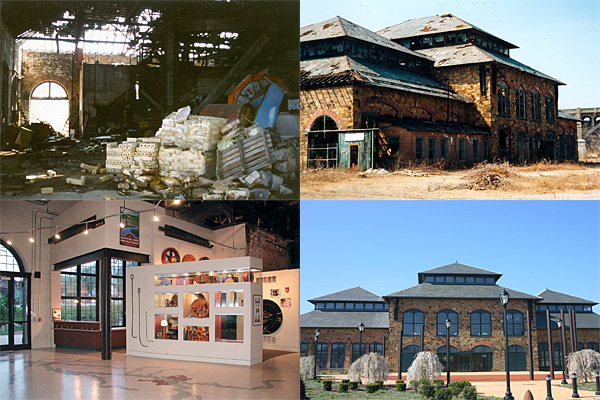 Before and After Restoration: The Phoenix Foundry Building
Phoenixville, PA
Courtesy of Barbara Cohen


The story of the Schuylkill River Heritage Center, a local landmark in nearby Phoenixville, begins with the closing of the Phoenix Steel Company in 1987. The property was sold, and most of the buildings were demolished. By the mid-1990's only the Foundry Building and the former Bridge Company Building were still standing. Battered by weather and time, the Foundry was filled with 100-years worth of trash and debris. Ms. Cohen supplemented her lecture with the use of a slide presentation.
The Phoenixville Area Economic Development Corporation (PAEDCO) undertook the challenge to rescue this iconic survivor. Elected to serve as a Board member of PAEDCO, Barbara Cohen led the successful fundraising campaign to restore and adaptively reuse the historic Foundry Building. Over 5.2 million dollars were raised by PAEDCO to achieve this goal. The Chester County Commissioners gave PAEDCO the grant funding to purchase the 14,000 sq. ft. building so that it could be restored and adaptively reused to become a northern Chester County gateway for visitors, and a new venue would be installed in the building that would create jobs that support Phoenixville's urban revitalization.
Ms. Cohen currently serves as President of the Schuylkill River Heritage Center which has now become a unique, interpretive place to experience the pictures and pieces of the past that give everyone a better understanding of Phoenixville's Iron and Steel legacy and its place in the Schuylkill River's history.