News
---
Quick Links
---
Top
Our Next Meeting
At our next meeting on Sunday, October 16, 2022 at 2:00 pm, the featured presentation will be: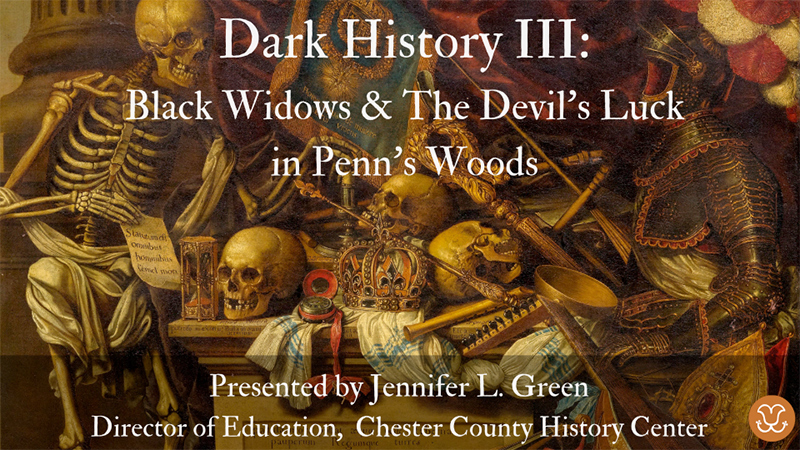 Dark History III: Black Widows and the Devil's Luck
presented by Jennifer L. Green
With Halloween around the corner, join us for a presentation of the third installment of Jennifer Green's Dark History series. This program features more true stories of bloodshed and misfortune in southeastern Pennsylvania. Explore mysterious shipwrecks with ties to Pennsylvania as well as a criminal poison ring that may have killed over 100 people. Learn about how mental illness and abuse may have driven one 19th century woman to commit a terrible crime.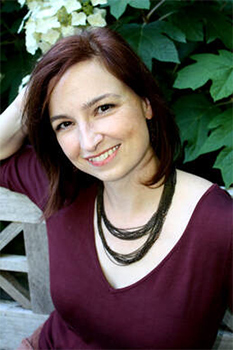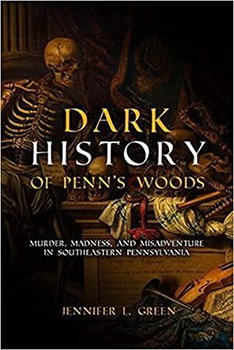 Jennifer L. Green currently serves as the Director of Education at the Chester County History Center in West Chester, Pennsylvania, and is the author of  Dark History of Penn's Woods: Murder, Madness and Misadventure in Southeastern Pennsylvania.  She has written articles for the Encyclopedia of Greater Philadelphia as well as ExplorePAHistory.com. Jennifer L. Green graduated from University of Delaware with majors in anthropology and history, and earned her Master's degree in American History at West Chester University of Pennsylvania. She has conducted research and written for websites like ExplorePAHistory.com and the Encyclopedia of Greater Philadelphia, and has worked at historic sites throughout Chester and Delaware counties. She lives in northern Delaware with her husband and one very fluffy dog.
This Society meeting will be held at 2:00 p.m. on Sunday September 18, 2022
co-sponsored by the
Tredyffrin Public Library
as an online web seminar.
This is a hybrid event, which will take place in-person with the option to view the program via Zoom.
Register as "in-person" for in-person attendance or register "online" for virtual attendance.
Advance registration (no charge) is required.
Participation is limited, so prompt registration is strongly recommended if you are interested.
Use the following link to register in advance for this event: https://ccls.libcal.com/event/9718222.
After registering for online, you will receive a confirmation email containing information about joining the Zoom webinar.
After receiving the confirmation, if you have not already done so, you might want to visit the zoom.us website
to download (and test) the Zoom client application on your computer or device.
---
Top
Special Events Sponsored by Other Organizations
Tredyffrin Community Day
The Society will exhibit again at the 2022 Tredyffrin Township Community Day — on Saturday 8 October 2022 from 2 pm until 6 pm at Wilson Farm Park in Chesterbrook. Please stop by and visit while you enjoy "Food & Fun for the Family"
---
Top
Links to Recent Online Presentation Videos
Society Presentations
Chester County Historic Preservation Network 2021 Spring Workshop (6 March 2021)
---
Top
Past Special Events Sponsored by Other Organizations
Mt. Zion AME Church
170th Anniversary — Mt. Zion AME Church celebrated their 170th Anniversary on Saturday 21 September 2018 from 10 am until 4 pm at 380 North Fairfield Road in Devon. PA State Senator Andy Dinniman presented a proclamation at 10 am, and members of the 6th Regiment United States Colored Troops (USCT) Reenactors presented a 21-gun salute and played "Taps," followed by tours of the historic church and cemetery, and a special service and banquet starting at noon.
Historical Marker — A state-sonsored historical marker commemorating the "Berwyn School Fight" of 1932–34 was dedicated on Saturday 21 November 2020 with a distinguished group of invited speakers in conjunction with the Pennsylvania Historical and Museum Commission. A large audience attended and the proceedings were video-recorded.
Graveyard Project — A front page article about the ongoing research and conservation and research project in the historic cemetery was published in the 29 January 2021 Daily Local.
---
Paoli Battlefield Heritage Day
The Society exhibited again at the again at the 2022 Paoli Battlefield Heritage Day on Saturday 17 September 2022 from 11 am until 4 pm at Paoli Memorial Grounds in Malvern.
.
---
Historic House Tour
On Saturday 28 September 2019, the Tredyffrin Historic Preservation Trust held their 15th Annual Historic House Tour from 12 until 5 pm. The proceeds support the rebuilding of the historic Jones Log Barn and the proposed Living History Center at Duportail.
---
Paoli Blues Fest
The Society exhibited in past years at the Paoli Blues Fest, but for various reasons, did not exhibit at the 2018 event, and will not attend the 2019 event to be held on Saturday 28 September 2019 from noon until 6 pm at Paoli Presbyterian Church. See more about the Society's past involvement here.
---
Top
Our Most Recent Meeting
This hybrid Society meeting was held at 2:00 p.m. on Sunday September 18, 2022
co-sponsored by the Tredyffrin Public Library as an online web seminar and in-person.
Matchbook Cover Memories of the Main Line
presented by Bart Van Valkenburgh
Society member and VP Bart Van Valkenburgh explored Main Line history through his extensive collection of vintage matchbooks. Bart's local history programs are always fascinating as he does more than scratch the surface — he weaves tales and shares memories, and the audience is welcome to share their memories too.
Do you remember when so many people smoked cigarettes, and when you bought a pack of smokes, you received a book of matches?
How about back then when each matchbook cover usually featured an advertisement for a local business? It was a dying art that disappeared about 25 years ago.
Bart Van Valkenburgh has collected hundreds of old matchbook covers dating from yesteryear. This collection shows many Main Line businesses that we frequented using the matchbook cover medium to advertise. Come and share the memories of these stores, restaurants, car dealerships and other businesses long gone from our neighborhoods.
And remember those days of yesteryear.
Bart Van Valkenburgh is Vice President and Program Chair of the Tredyffrin Easttown Historical Society, chairman of the Willistown Township Historical Commission, a member of the Paoli Battlefield  Preservation Fund board of directors, a member of the Paoli Memorial Association, and a board member of the Bartram Bridge Joint Preservation Commission. He is an active historian and has prepared and presented numerous informative and entertaining programs for a variety organizations.
---
Top
2022 Member Excursion
RESCHEDULED from 2020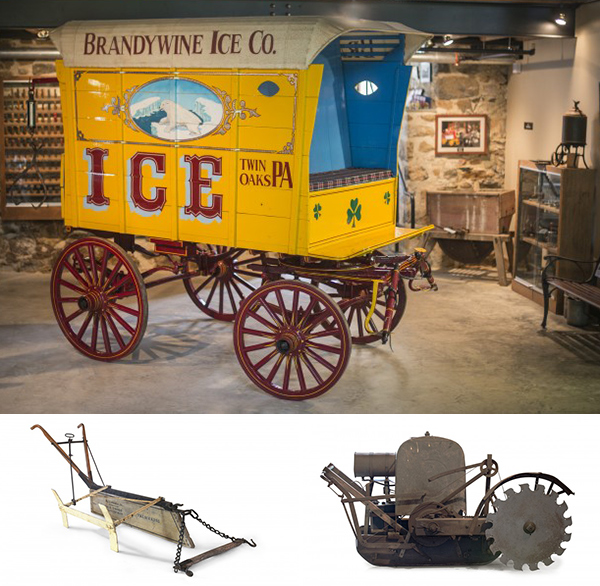 The museum provided us with a very special private guided tour, ably led by founder Peter Stack and his daughter "Peaches" and all who attended certainly enjoyed visiting this outstanding Chester County treasure and learning about the fascinating history of the ice-making industry from knowledgeable experts.
If you were unable to attend, we highly recommended that you arrange to visit sometime!
When:
12:00 noon, Saturday, 11 June 2022
Where:
825 Sconnelltown Rd
West Chester, PA 19382
Just west of town, off Rt. 842 (view map).
On Saturday, 11 June 2022, all current Society members were invited to join us for our Annual Member Excursion, which this year took us to The Antique Ice Tool Museum in West Chester.
The Antique Ice Tool Museum is housed in a completely renovated 1834 stone bank barn. Inside you will discover the fascinating history behind the natural ice trade. Walking in the footsteps of the iceman, you will follow history from the harvest to the delivery of ice, and learn about the rise and eventual decline of an industry that had a profound effect on the way we live. This one of a kind museum is dedicated to the preservation of the natural ice trade and was founded by the Stack Family in 2009. The museum houses the largest private collection of antique ice tools and memorabilia in the United States.
Impressions and Comments
"The museum has just acquired a full-sized Union Pacific RR refrigerated box car displayed in the courtyard. Amazing. These were cooled by blocks of ice every 100 miles or so during trips from California to the East."

"Old horse drawn wagons that delivered ice to the homes around the turn of the 20th century are displayed — the only thing missing is the blocks of ice."

"The restored bank barn that houses the collections is worth the trip by itself."

"There is a entire floor with dozens of old Ice boxes that reminded me of the one at my grandmother's house."

"The top floor has a collection of fully restored ice delivery trucks from the 1930s (such as Mack and International) that look like they just rolled off the showroom floor."

"My wife and I took my 9-year-old grandson on our first visit just before COVID. I was amazed and Joey had a million questions and loved almost everything."
---
Top
Society Special Events
"Behind the Doors"

The original Tredyffrin Easttown History Club occasionally held meetings at the various historic Inns in the area, as noted in this quote from an article about the history of the Club found in the October 1965 issue of the Quarterly (v.13 no.4, pg. 80):
On March 7, 1939 the first annual Banquet was held at the Windmill Tea Room (the General Jackson Inn) at Paoli. Originally the Club had these affairs at some historic inn. To date the following Inns have played host: The King of Prussia (once), Ye Old Bull Tavern (three times), General Warren (twice), Wayside Inn (General Jackson) (Five times).
Starting in 2013 this tradition was revived. So far we have visited two inns, both with tours and history presentations followed by a delicious five course food and wine pairing dinner. Both events were a great success and we look forward to more in the future. For more information, view the individual invitations for these events:
A portion of the proceeds from these events benefits the Tredyffrin Easttown Historical Society.
---
Top
TEHS Programs on Tredyffrin Township TV
A selection of pre-recorded programs featuring presentations from past meetings of the Society are available for viewing on Tredyffrin Township Television, found on Comcast Channel 15, Verizon Channel 24 and On-Demand.

We are looking for volunteers who would be willing to assist with the recording of our presentations for later broadcast. Free training is available to township residents at the Greenwood Studio facility in the Township Building. Please contact us or Studio Manager Gene Donahue if you are interested.

Program Schedule:


7 am on Sunday and Monday
1 pm on Monday
7 pm on Thursday and Saturday
---
Top
TEHS exhibits at local public libraries
Did you know? The TEHS maintains a display case of local history materials in the Local History Room at the Tredyffrin Public Library.

The current exhibit highlights Herb Fry's book collection.

C. Herbert Fry was an active contributing member and officer of the Tredyffrin Easttown Historical Society for over thirty years. Herb gave numerous talks and wrote over two dozen local history articles for the Society's History Quarterly periodical. He and his late wife Barbara amassed a collection of historical photographs, books, articles and other research materials that filled two closets. Following his death in July 2018, all of his local history materials came to the Society. One of his special interests was Valley Forge, and his books on the subject numbered over forty. Eight of these are displayed in this case.

Another example is this book by Frank Resavy & Tom McNichol.
---
| | |
| --- | --- |
| | During the month of April 2018, a display case in the main entry hall of the Easttown Library in Berwyn contained an exhibit featuring nine historic photos of Berwyn with intriguing captions, testing the viewer's knowledge of the area. |
---
Top
S. Paul Teamer Awards
As we passed the milestone of our 75th anniversary as an organization in 2012, it seemed fitting to establish a new annual award to recognize the especially significant contributions made by some of our members over the years. In considering what name this award should have we decided to reach back to the very beginning of what was then The Tredyffrin Easttown History Club and to founder and first president S. Paul Teamer. It is certainly worthwhile to look back at those first few volumes of the Quarterly and rediscover the noteworthy articles written by Teamer and his colleague Franklin L. Burns, among others, who set a high standard for those who followed.

S. Paul Teamer Award Recipients
(† posthumous, * since deceased)

| | |
| --- | --- |
| 2012 | Sue Andrews, Herb Fry*, Joyce Post* |
| 2013 | Bob Goshorn†, Mike Bertram |
| 2014 | Franklin L. Burns†, Roger D. Thorne |
| 2015 | Barbara Fry†, Mary Robertson Ives*, Clarissa F. Dillon |
| 2016 | John O. Senior |
| 2018 | Tim Lander, Cheryl Leibold, Michael Morrison* |
| 2019 | Jim Brazel, Heidi Sproat |
| 2020 | Bart Van Valkenburgh |
| 2021 | Meg Wiederseim |

At the January 2012 Annual Meeting, we were pleased to present the S. Paul Teamer Award for outstanding contributions to the Society to the first three recipients: Sue Andrews, Herb Fry, and Joyce Post.

At the January 2013 Annual Meeting, we were pleased to announce the names of the next two recipients of the award: Bob Goshorn (posthumous) and Mike Bertram. Since Mike was unable to attend this meeting, his award will be presented at a future meeting.

At the January 2014 Annual Meeting, we were pleased to announce the names of the 2014 recipients of the award: Franklin L. Burns (posthumous) and former president Roger D. Thorne.

At the May 2015 Meeting (rescheduled from the January 2015 Annual Meeting cancelled due to adverse weather conditions), we were pleased to recognize the 2015 recipients of the award: Barbara Fry (posthumous), Mary Robertson Ives (emeritus), and Clarissa F. Dillon.

At the January 2016 Annual Meeting, we were pleased to present the award to: John O. Senior.

(L-R): Roger Thorne and Society President Michael Morrison
with 2016 award recipient Vice-President John O. Senior

Society President Michael Morrison with 2012 award recipients
(L-R):Joyce Post, Morrison, Herb Fry, Sue Andrews

Society Vice-President John O. Senior with 2014 award recipient Roger Thorne and President Michael Morrison

(L-R): Roger Thorne (on behalf of Mary Roberson Ives), Herb Fry (on behalf of Barbara Fry), President Michael Morrison, and Clarissa Dillon
receive the 2015 awards

For several reasons, the award was not presented in 2017, but at the January 2018 Annual Meeting, Michael Morrison, Tim Lander, and Cheryl Leibold were recognized as new recipients.

2018 award recipients Michael Morrison, Tim Lander, and Cheryl Leibold with President John O. Senior (Note: The Philadelphia Eagles were playing for the NFC championship later that day, so John was wearing the team colors.)

At the January 2019 Annual Meeting, Heidi Sproat (unable to attend) and Jim Brazel were recognized as new recipients.

At the January 2020 Annual Meeting, Bart Van Valkenburgh was recognized as the new recipient.

At the January 2021 (Online) Annual Meeting, Meg Wiederseim was recognized as the new recipient.

2019 award recipient Heidi Sproat
with John O. Senior

2019 award recipient Jim Brazel
with Roger Thorne

2020 award recipient Bart Van Valkenburgh with John O. Senior
---
---