Annual Member Excursion – 2022
RESCHEDULED from 2020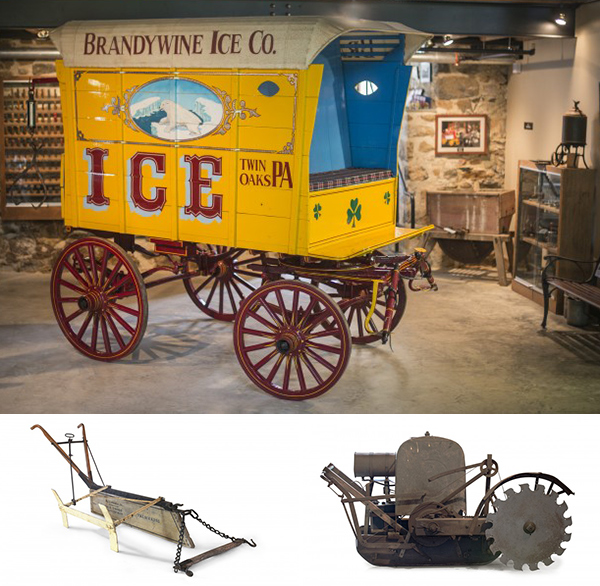 The museum provided us with a very special private guided tour, ably led by founder Peter Stack and his daughter "Peaches" and all who attended certainly enjoyed visiting this outstanding Chester County treasure and learning about the fascinating history of the ice-making industry from knowledgeable experts.
If you were unable to attend, we highly recommended that you arrange to visit sometime!
When:
12:00 noon, Saturday, 11 June 2022
Where:
825 Sconnelltown Rd
West Chester, PA 19382
Just west of town, off Rt. 842 (view map).
On Saturday, 11 June 2022, all current Society members were invited to join us for our Annual Member Excursion, which this year took us to The Antique Ice Tool Museum in West Chester.
The Antique Ice Tool Museum is housed in a completely renovated 1834 stone bank barn. Inside you will discover the fascinating history behind the natural ice trade. Walking in the footsteps of the iceman, you will follow history from the harvest to the delivery of ice, and learn about the rise and eventual decline of an industry that had a profound effect on the way we live. This one of a kind museum is dedicated to the preservation of the natural ice trade and was founded by the Stack Family in 2009. The museum houses the largest private collection of antique ice tools and memorabilia in the United States.
Impressions and Comments
"The museum has just acquired a full-sized Union Pacific RR refrigerated box car displayed in the courtyard. Amazing. These were cooled by blocks of ice every 100 miles or so during trips from California to the East."

"Old horse drawn wagons that delivered ice to the homes around the turn of the 20th century are displayed — the only thing missing is the blocks of ice."

"The restored bank barn that houses the collections is worth the trip by itself."

"There is a entire floor with dozens of old Ice boxes that reminded me of the one at my grandmother's house."

"The top floor has a collection of fully restored ice delivery trucks from the 1930s (such as Mack and International) that look like they just rolled off the showroom floor."

"My wife and I took my 9-year-old grandson on our first visit just before COVID. I was amazed and Joey had a million questions and loved almost everything."
Page last updated: 2022-06-16 at 14:30 EDT
Copyright © 2006-2022 Tredyffrin Easttown Historical Society. All rights reserved.
Permission is given to make copies for personal use only.
All other uses require written permission of the Tredyffrin Easttown Historical Society.