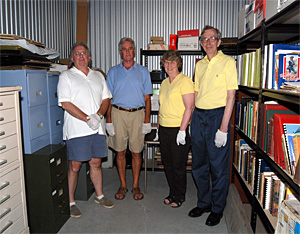 During one of the summer's Tredyffrin Easttown Historical Society's weekly work sessions, the Archive Committee, comprising (L to R) J. Michael Morrison, Rick Belber, Barbara Craig, and Norman Craig, prepare to continue their conservation efforts within the collection.


A Virtual Tour of the TEHS Historical Archive
by J. Michael Morrison
Have you ever wondered what has been collected by the TEHS since 1936? This presentation explored the collection with the audience, and opened the doors to the new Historical Archive, providing a behind-the-scenes look at the weekly activities of the archive committee.
The committee of dedicated volunteers was introduced, followed by a virtual tour of the climate controlled archival storage area, with a look at how we conserve and protect our collection for future generations.
Next the discovery of some rare and exciting items that have been graciously donated to the society was discussed, and the audience as asked ask for help in identifying some of the things the committee has uncovered.
Finally, the Archive Committee discussed the Historic Preservation of Family Heirlooms, with important tips for keeping treasured keepsakes safe from deterioration. Included will be things that can be done to insure your heirlooms don't become someone else's junk.