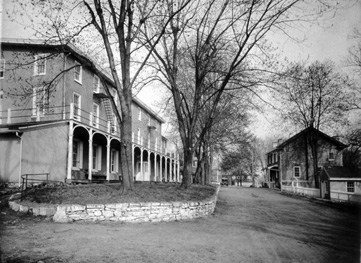 Yellow Springs, showing the Washington Building (left),
and the Faculty Building (right)


Field Trip to Historic Yellow Springs
led by J. Michael Morrison
The 2013 Annual Member Excursion took us to Historic Yellow Springs. Society President J. Michael Morrison led the expedition which featured a presentation on the long and interesting history of the Village, followed by a guided walking tour of the buildings and grounds, and finally a gathering for substantial refreshments, including delicious tea sandwiches and a special seasonal cocktail, the "Lemon Spring."
We convened in the recently renovated Washington Building on Art School Road, adjacent to the paved parking area. The event began with a presentation by John Shaw on the history of the Village from 1722 until the present day, followed by two different guided walking tours led by docents Tom Lutz and Phil Rossomando, appropriate for different interests and abilities. We reconvened in the Washington Building for refreshments.
For more information you can visit the Historic Yellow Springs website.
Click on the following link for driving directions to Historic Yellow Springs, 1685 Art School Road, Chester Springs, PA 19425.