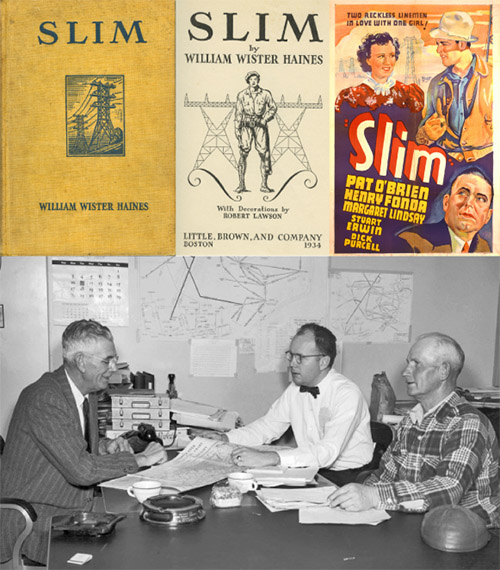 Slim Morrison images (CW from upper left):
novel book cover & frontspiece, 1937 movie poster, and 1958 office photo.


Slim the Lineman and the Power Lines that Bisected the Great Valley
Michael Morrison
Society member and former president Michael Morrison presented the remarkable story of his grandfather Leslie White ("Slim") Morrison, who came to this area in the mid-1920s from South Carolina to work for the Philadelphia Electric Company as a foreman working on the power lines that ran through the Great Valley on their way from the Conowingo Dam.
Slim married a schoolteacher from Spring Mill, and they purchased the Thomas Rees House on King of Prussia Road (sister property to the King of Prussia Inn), as well as the old general store and Post Office, later turning that into an antiques shop.
Slim's story was remarkable enough to inspire a 1934 novelization written by William Wister Haines, who later wrote the screenplay for the Hollywood movie Slim that was produced in 1937, starring Henry Fonda as Slim.
This presentation was held at the Tredyffrin Public Library in Strafford, PA starting at 2 pm.