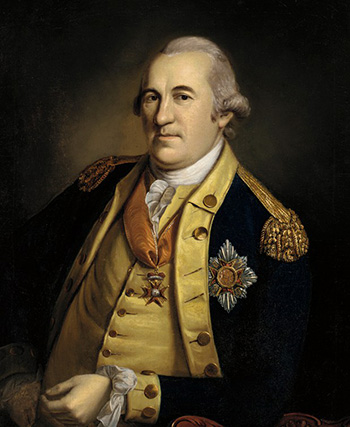 Baron Friedrich Wilhelm von Steuben
painted by Charles Wilson Peale, 1780
Pennsylvania Academy of the Fine Arts, Philadelphia, PA


Baron de Steuben: The General Who Made the Army
by Nancy K. Loane
He was a portly foreigner who could swear in five languages and wrote the first training manual of the Continental Army in French. He wore a big, twinkling silver star on his jacket and strutted around the Valley Forge encampment like he owned the place. Yet the Baron de Steuben was esteemed—even revered—by the Continental Army officers and the rank and file alike. The personal story of Major General de Steuben, a former Captain in the service of the great Frederick, King of Prussia, is an American success story. And his contribution to the United States of America is nothing less than revolutionary.
---
Nancy Loane
Photo courtesy of M. J Ticcino mjticcinoimages.com


Nancy K. Loane, Ed.D., a former seasonal ranger at Valley Forge National Historical Park, has studied more than five hundred Revolutionary War–era diaries, journals, letters, returns, orderly books, and records. A Pennsylvania Commonwealth Speaker (2006–2007), she has presented more than 200 lectures in six states about the women at the Valley Forge encampment, Martha Washington, and the soldiers' letters from camp. Dr. Loane is a founding member of the American Revolution Round Table of Philadelphia and an honorary lifetime member of the Society of the Descendants of Washington's Army at Valley Forge.