Past Meeting
The Historic Devon Inn
by Michael Morrison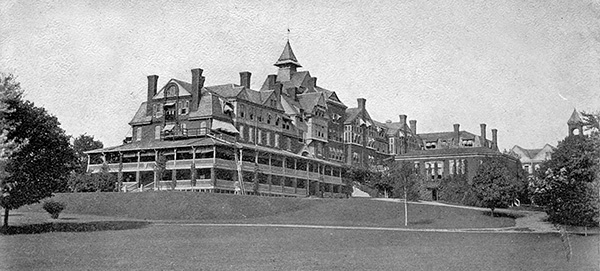 The Devon Inn, 1905. Photo courtesy of TEHS Image Archive


For three decades, from 1882 to 1913, many wealthy and socially prominent families from Philadelphia and elsewhere spent their summers at the well-known Devon Inn. The huge hotel was situated on a knoll about 300 yards south of the railroad station, overlooking well-kept lawns, trees, and gardens. A shaded boardwalk led from the station to the Inn, and carriages and omnibuses met all trains. The Devon Inn was a culture unto itself, attracting visitors not only to stay in style, but also to enjoy the many events and activities that took place on the expansive lawns. Destroyed by fire in 1883, it was immediately replaced with a larger, grander structure, and prospered for years as a center of social life and recreation. In its later years, the structure was used for other purposes, and even served as the first home of the Valley Forge Military Academy until finally lost to fire in 1929.
In this presentation, Michael Morrison shared some of the remarkable photos and colorful stories discovered during his extensive research on the history of this lost treasure of the bygone Main Line.
Michael Morrison is president of King of Prussia Historical Society, former president and current board member of TEHS, and an experienced historian. He has recently led an ongoing and very productive research project focused on the Devon Inn.
This presentation was held at the Tredyffrin Public Library in Strafford, PA on Sunday 19 November 2017, starting at 2 pm.