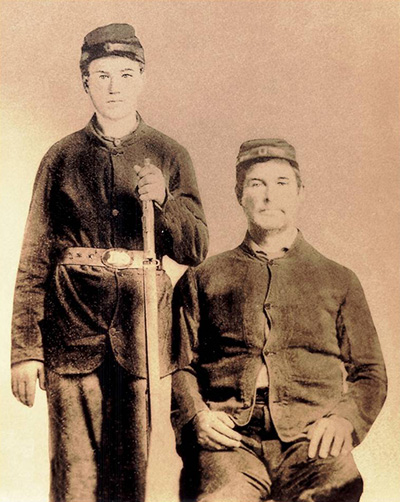 Samuel Kennedy, Sr. (right) and his second son Samuel Jr. (left) posed for this photograph in their Union Army Private/Musician's uniforms. They had both enlisted in the 67th Pennsylvania Volunteers.
Photo courtesy of Jim Brazel


William John Kennedy, Sergeant, 2nd Pennsylvania Reserves, eldest son of Martha Gibson and Samuel Kennedy, Sr.
Photo courtesy of Jim Brazel


When Mrs. Kennedy Met Mr. Lincoln
by Jim Brazel
The following account is a verbatim quote of an article based on an interview with Mrs. Martha Kennedy, originally published in the Phoenixville Messenger on July 5, 1885:
"During the month of December 1864, I had occasion to call upon the President under the following very unpleasant circumstances. My husband was wounded in the Wilderness in May, 1864 and was sent to a U.S. Hospital in Philadelphia where I was summoned just in time to receive his parting words. I brought the body home. His funeral was scarcely over when I was called to a U.S Hospital in Washington to look after my eldest son, who, like his father, had been mortally wounded in that campaign, and only survived a short time after my arrival. I left Washington with my sad charge about the time the rebels entered Maryland, and it was generally believed, would have taken the capital had it not been for the timely arrival of the Sixth Corps, in which my second son was serving.
As soon as permission could be obtained, he visited the hospital where he was informed I had left with his brother for home. To the surprise of all upon the day of the funeral, my second son stepped in to share our sorrow. After the funeral was over, I could not command sufficient patriotism to allow my son to return to his regiment, and several loyal friends advised me that under the circumstances, I had a just claim for the discharge of my son, he being a minor."
This program described Mrs. Kennedy's efforts to meet with Abraham Lincoln and have him discharge her second son from the Union Army. Samuel Kennedy, Jr. had been officially classified as having deserted on 16 July 1864, an offense for which the death sentence was common.
President Abraham Lincoln


Jim Brazel is a long-time Society member and resident of the area, with a special interest in railroad history.
This presentation was held at the Easttown Library & Information Center in Berwyn, PA on Sunday 18 February 2018, starting at 2 pm.