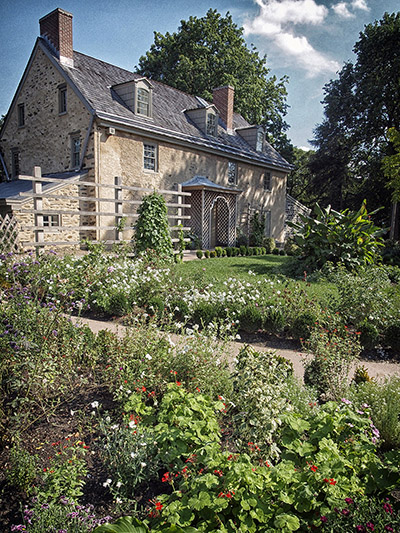 Bartram House, west (or rear) side view with the new Ann B. Carr Garden. Photo courtesy of Joel Fry


America's "Ancient Garden:" The Bartram Botanic Garden 1728–1850
by Joel Fry
Four generations of Bartrams lived and worked at the family garden from 1728–1850, and made their livelihood by the exchange of plants and natural history specimens with the world. Bartram's Garden became a gathering point for scientists, artists, gardeners, and the curious. Most of the native plants of eastern North America were in cultivation by the Bartrams, and the collection grew with each generation. By the beginning of the nineteenth century the Bartram family expanded into wider commercial horticulture, catering to a growing Philadelphia market for garden and greenhouse plants. At its closure in 1850, Bartram's Garden could be described as a truly ancient garden.
This talk, presented by the Garden's Curator Joel T. Fry, traced the careers of John Bartram and his son William, their travels in North America, and their impact on international science. Bartram's Garden has been preserved as a Philadelphia city park since 1891, and recent restoration work has seen the recreation of a garden from the third Bartram generation, the "Ann Bartram Carr Garden," and a new "Bartram Trail" along the west bank of the Schuylkill, which will reconnect the garden to Center City Philadelphia.
This presentation was held at the Easttown Library & Information Center in Berwyn, PA on Sunday 29 April 2018, starting at 2 pm.