Annual Member Excursion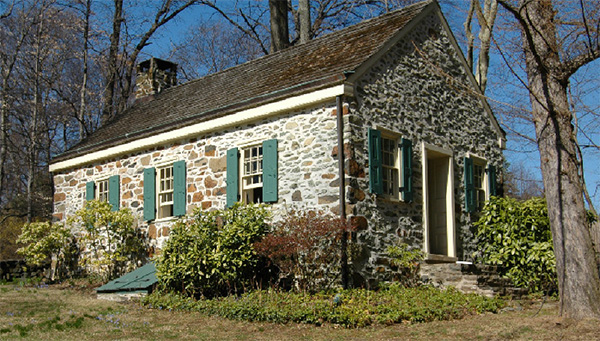 © 2018 The Old Eagle School


On Sunday 24 June, all current Society members were invited to join us for our Annual Member Excursion, which this year took us to the Old Eagle School in Strafford. The current historic stone building was constructed in 1788 to replace the original 1768 log structure, served as a school until 1872, and was later used as a Sunday school and chapel. In the adjoining cemetery are some 70 graves, including those of many early settlers of the area, as well as several revolutionary soldiers who died during the Valley Forge encampment of 1777–78.
We were joined again this year by members of the King of Prussia and Radnor Historical Societies, and enjoyed an informative presentation on the history of the building and grounds. Eugene Hough, Monument Education Preservation Field Specialist with the Heritage Guild Works Legacy Marker Program, conducted an impressive flag folding ceremony and provided a detailed overview of his phase 1 preservation work on the historic Old Eagle School Cemetery Grounds. Afterwards, we gathered for conversation and refreshments, including delicious tea sandwiches and seasonal beverages.
We are grateful to Gene and the Old Eagle School Board of Trustees and volunteers for their support of this event.
The school is located on Private Way in Strafford, just off Old Eagle School Road, north of the Strafford train station. There is limited parking at the school itself. Private Way also serves as a street for several private homes so please do not block the road with your vehicle. Additional parking can be found one block south at the Goddard School, on weekends.
When:
2–4 pm, Sunday, 24 June 2018
Where:
Old Eagle School
Private Way
Strafford, PA 19087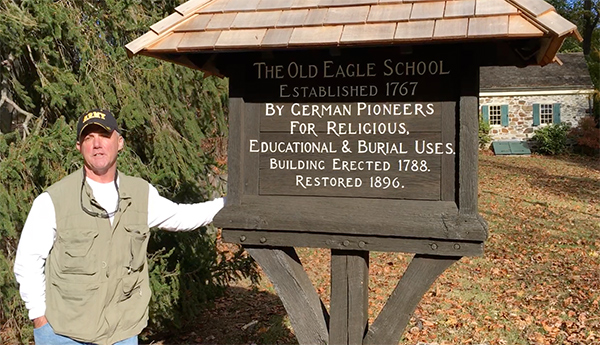 Gene Hough at the Old Eagle School, courtesy of Eugene Hough