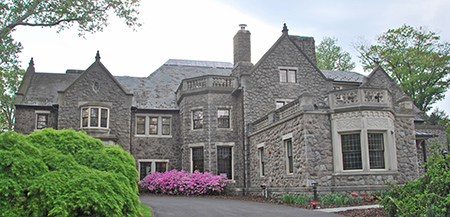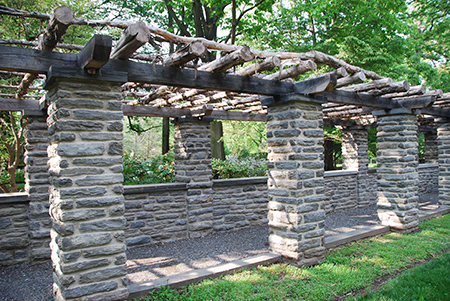 Stoneleigh House and Garden Pergola © John O. Senior, May 2018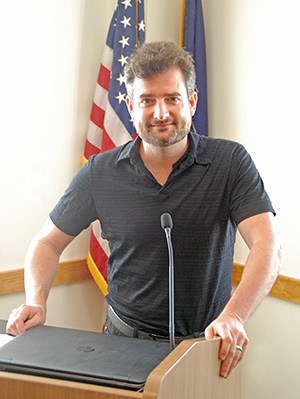 Ethan Kauffman, May 2019 © John O. Senior
Ethan Kauffman is a public garden administrator and horticulturist. He currently serves as the director of Stoneleigh: a natural garden, a 42-acre former estate located in Villanova, PA, which opened to the public in May of 2018. At Stoneleigh, he enjoys creating a garden experience that inspires others to plant for beauty, biodiversity and ecological function. Previously, he served as director of Moore Farms Botanical Garden, where he led the transition from a private pleasure garden to a non-profit botanical garden, which included the creation of public programs, operating policies and the mission. Ethan believes that horticulture connects us to the natural world, and exploring this relationship is vital to understanding and defining our place in it. He received a B.S. in Biological Sciences from Clemson University.
Stoneleigh: A Natural Garden
by Ethan Kauffman
Stoneleigh: A Natural Garden opened to the public for the very first time on Mother's Day weekend in May 2018. Prior to becoming the Philadelphia area's newest public garden, it was a grand Main Line estate and home for three of the region's most prominent families. Stoneleigh's director, Ethan Kauffman, explored the compelling history of this spectacular property, and how its past has shaped the garden that exists today.
For nearly 80 years, Stoneleigh was the home of the Haas family, who donated the property to Natural Lands in 2016 so that it would remain preserved forever. After much preparation, planning, and planting, Stoneleigh: A Natural Garden opened to the public in May of 2018.
Today, Stoneleigh is a stunning reflection of more than a century of loving care by three different families. Extraordinary trees, sweeping vistas, and intimate garden spaces offer a variety of opportunities to explore, learn, relax, and be inspired.
The Tudor Revival mansion at Stoneleigh was the Haas family home for generations. Today, it serves both as home to the Organ Historical Society – an organization that celebrates, preserves, and studies the pipe organ in America, including one that the organization has installed in the house – and a space for a wide variety of programs in the future.
Stoneleigh is also a showcase for blending the aesthetic beauty of designed gardens with the natural richness of native habitats that are essential to the health of our planet.
— adapted from the Stoneleigh website
This presentation was held at the Easttown Library & Information Center in Berwyn, PA on Sunday 19 May 2019, starting at 2 pm.